Once Upon A Time in Hollywood – Movie Review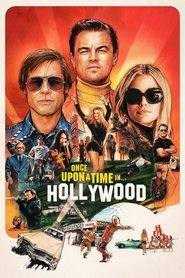 Once Upon a Time… in Hollywood
Movie Rating: 7.5 out of 10
Tagline: In this town, it can all change… like that
Genres: Comedy, Drama, Thriller
Production Companies: Heyday Films, Columbia Pictures, Bona Film Group
Release date: July 24, 2019
Budget: 95000000 $
Movie Overview:
Los Angeles, 1969. TV star Rick Dalton, a struggling actor specializing in westerns, and stuntman Cliff Booth, his best friend, try to survive in a constantly changing movie industry. Dalton is the neighbor of the young and promising actress and model Sharon Tate, who has just married the prestigious Polish director Roman Polanski…
---
In this era of huge franchises and blockbuster remakes bloated by CGI, political correctness and paper-thin characters that mostly exist to appeal to specific demographics, a film by a director with a great deal of creative control and a strong vision is more valuable than ever.
Once upon a time in Hollywood is the 9th film in director Quentin Tarantino's illustrious filmography and his most personal, working as a brilliant homage to the late 60s, a transitional period from old Hollywood to new Hollywood which saw a lot of movies go from the heightened and escapist sensibility of The Sound of Music to the raw and chaotic demur of Easy Rider. Once upon a time in Hollywood fits perfectly in that transitional period, functioning both as a fairytale and demythology of Hollywood in that time.
The film centers around Rick Dalton (Leonardo Di Caprio), a TV actor on the decline, and Cliff Booth (Brad Pitt), his stunt double and closest friend, as the two men struggle to make the transition from TV to film in the fast-changing Hollywood landscape and slowly come to terms with a world they no longer understand.
From that description, it's rather clear that this is more of a character piece than a meticulously plotted narrative as has been the case with previous Tarantino films. Here the approach is much more laid back with there being hardly any plot for the majority of the runtime and there really doesn't have to be. The strong and wildly entertaining characters were enough to keep me fully immersed in the story had the movie exceeded its already hefty runtime of 2hrs 45min I wouldn't have minded at all. The dynamic between the two main characters is both funny and heartfelt all thanks to the brilliant dialogue and excellent chemistry between the two actors which I feel is one for the ages.
They're not kept together for the entire runtime but split up along the way to their own separate adventures and they both manage to shine in their own ways. Cliff Booth's laid back approach to life or more accurately him letting life happen and just going with the motions is portrayed brilliantly by Brad Pitt's cool charisma as he dons his yellow Hawaii t-shirt and cruises around town till he runs into the Charles Manson family at a ranch which makes for an incredibly tense sequence something that Tarantino has become a master at. Rick Dalton goes through his own problems as he succumbs to drinking while struggling to revive his declining acting career which enables Leonardo di Caprio to practice a great deal of range in what I feel is his greatest performance going from comedic to unbridled rage and slowly descends into sympathetic.
These two characters are some of the best that Tarantino has ever written and he brilliantly weaves them into the real-life event that is the Manson family murders. Sharon Tate, an actress in the early days of her career and one who happened to be at the center of this event is played by Margot Robbie in a role that isn't given much dialogue but instead we observe her going about her life and has an incredible sequence in which she goes to a theatre to watch a movie that she's in and enjoys the audience's reaction to it. Watching this I was just awestruck by the characters in what feels like a simple slice of life much like Dazed and Confused(1993) and American Graffiti(1973) where there is no plot urgency but simply a fun hangout between the characters and the audience.
The 60s atmosphere that's been crafted here is just brilliant and that's thanks to the wonderfully integrated soundtrack and radio ads plus the unbelievably authentic production design that is all done in-camera, no green screen, all real. At some point, I forgot I was watching a film made in the 2010s and was transported to cinema of the late 60s and I would have willfully existed there forever. It's painted as this fairytale land with such passion and beauty which perfectly justifies the title but also along the way the film works to demythologize some of the things we mystify from that era like the Manson family who are portrayed as pretentious and naïve teens who think they're far more enlightened than they actually are and Bruce Lee who comes off as a little arrogant much to the dismay of his family and fans as you may have already learned but that did nothing to hurt the film for me at all.
This may very well be Quentin Tarantino's masterpiece; I can't say anything against it since I feel that it is perfect. I didn't care much for its predecessor, 'Hateful Eight', since it felt like old tropes being recycled but Once upon a time in Hollywood shows just how well its director has evolved over the years and has now become a master of his craft joining the ranks of Scorsese and Kubrick. Every element is done to perfection; it's beautifully shot, acted, paced, written, edited and directed all coming down to a beautiful celebration of the 60s in Hollywood and a meta-statement about the current changing film industry and a wish to return to a simpler time.
Written by Andrew Kulubi.